Why 'Car Security' is so important in 2022
In 2017 we saw a massive spike in car theft. Before Covid, car theft and juvenile joyriding were becoming a nightmare for residents and local law enforcement here in Victoria and especially in Queensland.
Now it's out of control more than ever, and the Queensland and Victorian police are struggling daily with the ever-increasing problems of vehicle theft.
In Western Australia, engine immobilisers are mandatory and have been compulsory since 1997. Successfully trialled in Western Australia, the immobiliser program was introduced in 1997 with a government rebate to encourage the voluntary installation of immobilisers. The voluntary program became mandatory in 1999.
The program required vehicles to be fitted with an approved quality aftermarket immobiliser on registration or transfer of registration. It appears to have effectively reduced theft numbers and therefore became mandatory. 
In 2017 CODE SAFE keypad engine immobilisers were introduced to the Australian automotive market to help eradicate car theft and juvenile joyriding to create a solution to the problem.
Insurance companies here in Victoria and Queensland need to be encouraged to introduce the same initiative and protective measures to promote their members to add additional car security to their assets to help improve the statistics of crimes of these natures.
Car security is essential, as car theft is on the rise.
Let's look at Queensland for an example, 2021/22.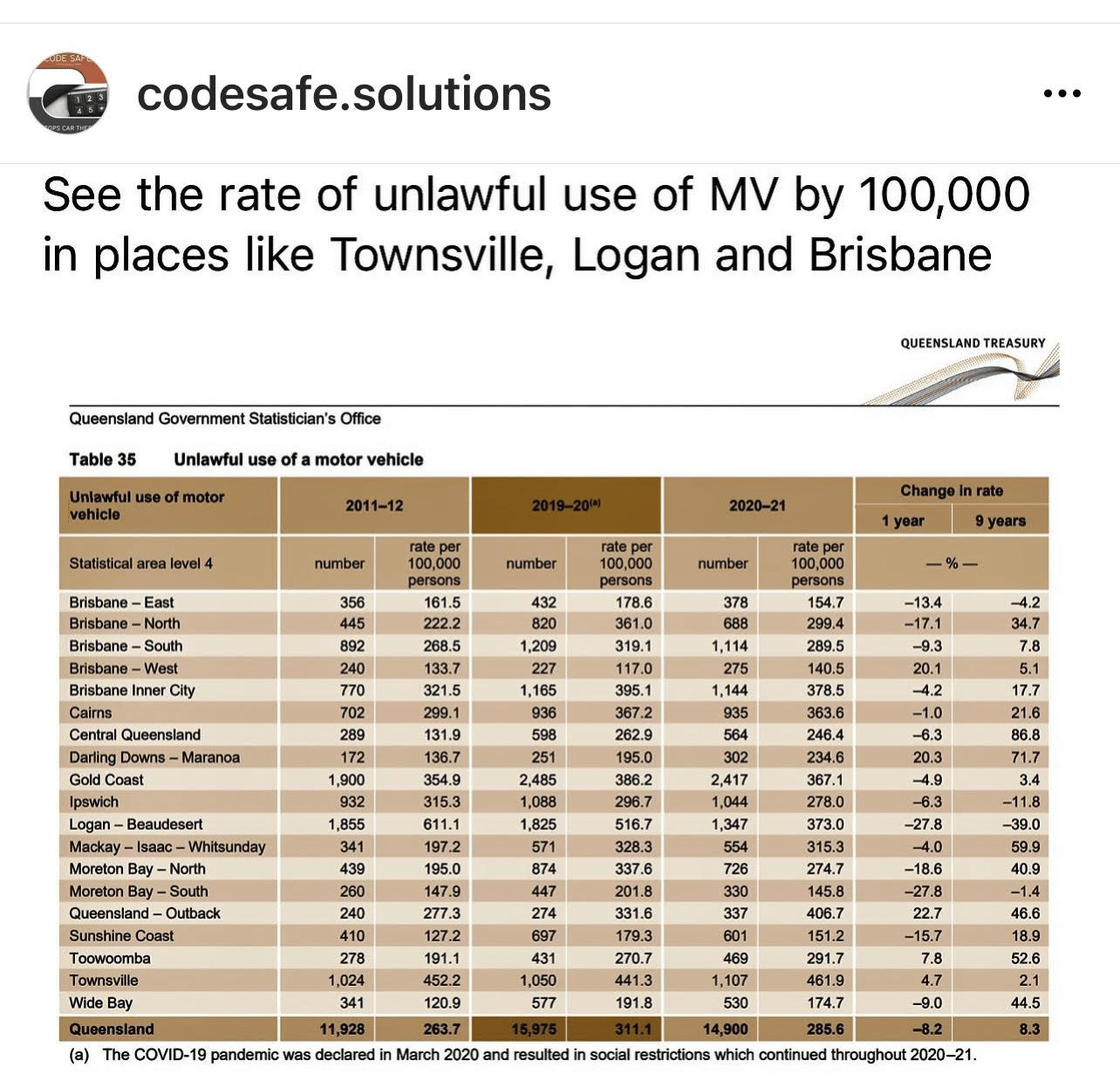 In 2021/22, Townsville, Queensland, had a jump in car theft and juvenile joyriding with continual media releases about the constant road trauma. These crimes cost the state government millions of dollars.
There has been a concerning spike in related deaths, sparking concerns about the effectiveness of road safety campaigns.
To reiterate, the Federal Government, back in 2017, when they looked at the national statistics, estimated road crashes were costing the Australian economy $27 billion a year.
Looking at our current statistics, in 2022, there has been a significant increase in vehicle theft.
The police have had the worst year in vehicle theft, and whilst road safety has been neglected over the years, the consequences of car security are not getting through.
Our insurance companies guide Australians. We are left vulnerable when leaving our cars unattended without insuring our vehicles. Yet, our insurance companies have no incentives to add additional car security to our vehicles. Why don't our insurance companies offer risk management and rebate for adding extra car security to their assets?
Car engine immobilisers are now readily available here in Australia. So every Australian who wants to safeguard all their vehicles can do so.
Our leading network of Registered CODE SAFE installers is waiting to quote you on your car security system and solution for your vehicle protection in 2022
See our list here on our website.  https://www.codesafesolutions.com.au/category/locations/
Car security is essential and neglected. Therefore, Australians are still suffering the consequences of vehicle theft here in Australia. Our car theft statistics are still causing trauma and devastation to our communities, suburbs, state governments, police, and the general public.
Problem: CAR THEFT
Solution: CODE SAFE quality aftermarket – engine immobilisers