CAR THEFT Statistics 2020
There were 58,285 vehicles stolen in Australia last year with an increase of 9%.
When it comes to vehicle theft, which is common phenomenon these days, we need to think about what security we have in have in our vehicles.
The first thing that comes to our minds is insurance. We pay huge compressive Insurance for our vehicles. Agreed????
Its ironic really when insurance companies continually beg  its policy's holders to tighten security around the house and their vehicles. It's in all their content. Here is an example.
RACQ content highlights the importance of adding another layer of vehicle security with self-arming engine immobilisers that comply with Australian Standard approved 4601.
https://www.racq.com.au/cars-and-driving/cars/owning-and- maintaining-a-car/car-accessories/vehicle-securityIn
I do know for a fact that RACV in 2015 recorded in their Royal Auto Magazine paid out more than $12 million dollars in claims. (See attachment) So now we are in 2021 and we have an increase in vehicle theft, so you can just imagine what the payout is now
RACV – stated back in 2015 that an average cost of a claim minimum is approx. $12,084 and if Australia alone had 58,285 vehicles stolen in 2019 then the pay out of claims around Australia, well you can do the maths is something in the order to…$704,315,940 claims nationally. That's a lot of money. So how much is the Insurance companies actually making from us?
Related Articles:
In Victoria alone this year's statistics sent to LC Distributors directly by the source from Digital Outreach specialist from Budget Direct claims 13,912 vehicles stolen with a min pay out of $12,000 per vehicle from Insurance, means that Insurance companies in Victoria paid out minimum $$166,944,000.
Can I suggest payouts are now worth more?
CLAIMS ARE COSTING INURANCE COMPANIES MILLIONS OF DOLLARS BECAUSE WE HAVE A CAR THEFT CRISIS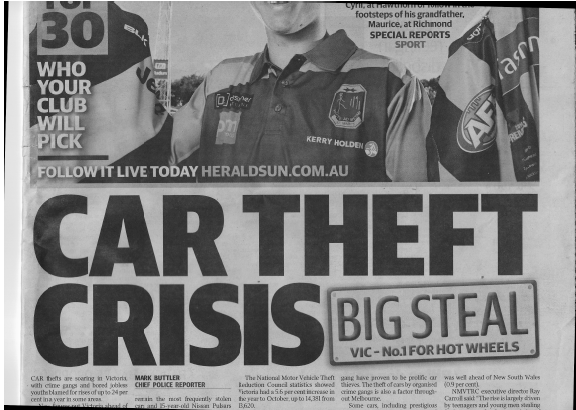 Together the payout is enormous. Insurance companies offer payouts but are their payouts actually worth the cost of the vehicle and your time? Car theft rise to cost!!!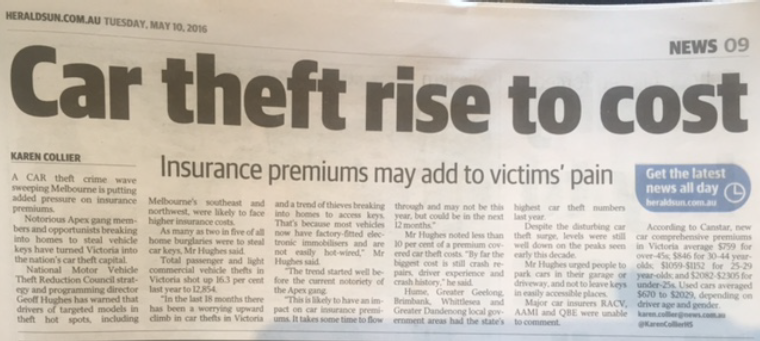 It's a constant discussion yet nothing has been done about it.
What about an ACTION PLANS that offers every member peace of mind when leaving their vehicles unattended.
Did you know that Insurance companies overseas offer their valued members risk management when purchasing comprehensive insurance? And successfully, through motor insurance. Insurance companies overseas make it mandatory to fit quality engine immobilisers that reduce vehicle theft, juvenile joyriding and trauma on their roads.
Related Articles:
We too can do the same here in Australia. We need to talk to our insurance companies about rebating us for installations of immobilisers. By adding another layer of vehicle security to our vehicles to avoid paying huge comprehensive insurance. We can prevent theft and we can make a difference to our national statistics by doing so as its done elsewhere in the world.
Australia is a wonderful country and I am personally proud to live here. Yet I feel that we are behind in technologies and policies that work successfully elsewhere.
Its question mark and we have to ask the reasons why. There competent solutions to stop vehicle theft, and juvenile joyriding yet out statistics continue to grow.
When thinking of the best security for your vehicle, vehicle security that works, and is more of an asset to you than paying thousands of dollars of insurance. …
Think Code Safe. It's your best friend giving you PEACE OF MIND.